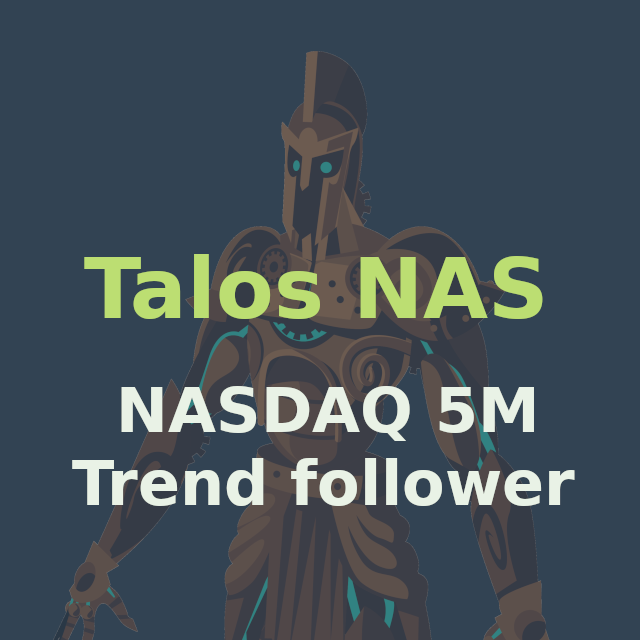 TALOS NASDAQ
More than 8.000€ per contract won with this strategy since released. Crushing it on this 2022 with more than 2.400€ of profit per contract (an average of up to 400€ per month and contract!!)
PROFIT FOR 1 ONLY CONTRACT AND DURING THE OUT-OF-SAMPLE PERIOD (THAT MEANS IN REAL, NOT IN BACKTEST !!!)
Being the best-selling strategy proves him right 🚀
☆☆ Look at the live tweets for latest results: https://bit.ly/cfdautoSMT-TalosNAS ☆☆
Trend following strategy for NASDAQ
First version created in July 2020. Latest version released on March 2022
⚠️ All results shown for 1 simple concurrent position, with 1 fixed contract and 200k candles, showing monthly results. What you see is what you get: No short periods shown, no make up the DD, no results showing quarter bars.
🏴‍☠️Do you know that most part of systems crashes after publish it? Make a well-looking system can be easy, as far it's so easy that you fall intro the trap of a overfitted system. Sometimes even the provider it's not aware of it. Nobody can assure profits, but you can trust in us as a provider with more than 2 active years distributing systems. Our development process is focused in do not overfit, and our updates usually enhances the previous version (while older versions even continue stable and profitable over time)
Consider the OOS of the strategy and version. Any result table always show Out Of Sample periods. Need help to understand results, risks or necessary equity? Do not hesitate to contact us
This trend following strategy, with long-lasting long positions and quick shorts, fits perfectly to the NASDAQ market. The strategy have a high time-in-market that increments the risk of SL when market change the trend, but is largely compensated with a very profitable long positions and with quick protection in short positions. Bearish market specialist!!
To reduce the risk even in the same market, combine it too with the vectorial strategy ZEUS NAS, to obtain profit in consolidated trends and in trend changes too.
We do not make-up drawdowns, big gains need drawdowns. Avoid magic systems and ratios, don't be fooled.
All our algos have a max 2% of Stop Loss (or less), a money management system and a configurable drawdown limit to protect capital in the worst of cases. All images shows results with 1 contract configuration.
This algo is delivered to be used "out-of-the-box", not recommended any change even in changing circumstances. Let us do the best for you, if the strategy have to be updated, we will do it after the corresponding study and period in real in our accounts before distribute it
Here some specific screenshots of latest results of this strategy (MM disabled by default and no considered in results)
☆☆ Look at the live tweets for latest results: https://bit.ly/cfdautoSMT-TalosNAS ☆☆
With this product license, we offer access to all updates of this strategy and customer support during the license period. You can participate in our own support groups and we can offer to you recommendations about configuration and reinvestment modules, system selection, drawdown and recommended equity….even portfolio suggestions and coexistence with another systems.
Take a look to our complete portfolio. Stable and reliable systems for all kind of market circumstances. Backtest and verify latest results by yourself using our demo: https://cfdautotrading.com/demo